TV Trivia Questions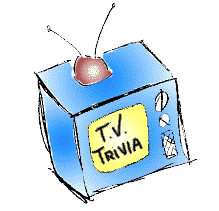 Friday March 23
Q: What was the name of the home of the Care Bear Cousins?
A: Stay Tuned...
---
Thursday March 22
Q: What classic English gameshow from the 80's featured kids who would adventure in a computer-generated Dungeons and Dragons environment?
Burt Luddin's Love Buffet
Nightmare
Inquizition
Throut & Neck
A: Nightmare
---
Wednesday March 21
Q: From Trivial Pursuit: Which of Steve Douglas' three sons wore glasses at the youngest age?
A: Young Ernie wore glasses.
---
Tuesday March 20
Q: Complete this "Tonight Show" sequence:
Steve Allen, ___, ___, ___, Jay Leno.
Jack Paar, Johnny Carson, David Letterman
Jack Lescoulie, Jack Paar, Johnny Carson
Merv Griffin, Johnny Carson, Joan Rivers
Jack Benny, Dick Cavett, Johnny Carson
A: Hosts of NBC's "The Tonight Show", in order, are Steve Allen, Lack Lescoulie, Jack Paar, Johnny Carson, and Jay Leno.
---
Monday March 19
Q: What was Balki Bartokamus' occupation when he lived in Mypos?
A: Balky was proud to have been a shephard on Mypos.
---
Friday March 16
Q: The old detective from Barney Miller + Officer Poncherello =
Wojo and the Man
Fish and CHiPs
Yemana on the John
Ponch and Judy
A: Fish from Barney Miller + Ponch from CHiPs make "Fish and Chips".
---