TV Trivia Questions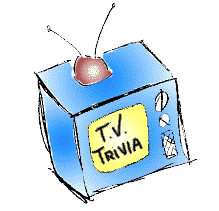 Wednesday April 25
Q: What soap was set in the town of Henderson, and its central character was Joanne Gardner Barron Tate Vincente Tourneur?
The Young and the Restless
The Bold and The Beautiful
Search For Tomorrow
Sunset Beach
A: Stay tuned...
---
Tuesday April 24
Q: What actor was famous for the line "nanoo nanoo"?
A: Robin Williams used the line "nanoo nanoo" on Mork and Mindy. Though many of you answered Mork, the question asked for the actor.
---
Monday April 23
Q: From Trivial Pursuit: What was the first soap opera to air one-hour episodes?
A: Another World was the first soap to air one-hour episodes.
---
Friday April 20
Q: Let's end the week with a fun one: Let's say the FAA grounds the Flying Nun due to faulty mechanics. Based on her flying mechanism, how might the report read?
"internal jet pack: frozen"
"coronet: cracked"
"one magic clog: missing"
"lost faith in: God"
A: When a stiff breeze flows through the convent, the flying nun is lifted into the air by her winged hat, or coronet.
---